The PlayStation has been an influential computer console in the gaming industry ever since the release of the original model back in 1994. Eight generations of PlayStation consoles have hosted some of the finest games released on the market. Here is our list of the top 5 strategic games that have been launched on the Sony console.
Grand Kingdom (PS4) 
The tactical role-playing game was initially released in Japan in November 2015 before having a global release in the summer of 2016. Developed by Monochrome Corporation, it is a game that sees players engage in turn-based battles where they take control of mercenaries who can use swords and magic in their attacks.
It is the military strategy aspect of this game that has seen it critically-acclaimed, with players able to play a single player mode and multi-player mode. The game is based in a fantasy world where four major nations are competing for world domination. Players are thrown into a time that is set 100 years after the fall of the Uldein Empire and power of the planet is up for grabs.
Pure Hold'em World Poker Championships (PS4) 
The date of 15th April, 2011 changed the face of online poker forever when three of the biggest brands in the industry were indicted by the US government on charges of fraud and money-laundering. PokerStars, Full Tilt Poker, and Absolute Poker were shut down with immediate effect and the accounts of thousands upon thousands of online poker players were frozen as an investigation into the sites and their business transactions was carried out.
It was a dark day for online poker, but also created an opportunity for developers like VooFoo Studios to take advantage of a feeling of disillusionment in online poker by releasing poker games for computer consoles such as the PS4. Pure Hold'em World Poker Championships allowed players to play poker in the comfort of their own home without the risk of committing their own finances to an online poker site account. Players could play a range of tournament tables with up to 8 friends or get involved in an open table with complete strangers. However, as security has tightened up, it's now possible for players to get involved back online in the comfort of their own homes.
Valkyria Chronicles (PS3)
If you're looking for one of the most influential tactical role-playing games to have ever been released on the PlayStation, then you need to look no further than the Sega-developed Valkyria Chronicles. The original title was released back in 2008 on the PS3, but such was its popularity and positive impact on the console that it enjoyed the treatment of being re-mastered and was re-released for the PS4 in 2016.
In the game, players are thrown into a fictional land called Europa during the early years of World War II. Fact and fiction merge as players take on the role of the militia in the region of Gallia, which is under attack from the evil East European Imperial Alliance, who are also at war with the Atlantic Federation. Players must use a turn-based strategy design to defeat the enemy. The game was such a hit that it spawned two sequels, a spin-off series called Valkyria Chronicles D, and a follow-up series called Valkyria: Azure Revolution.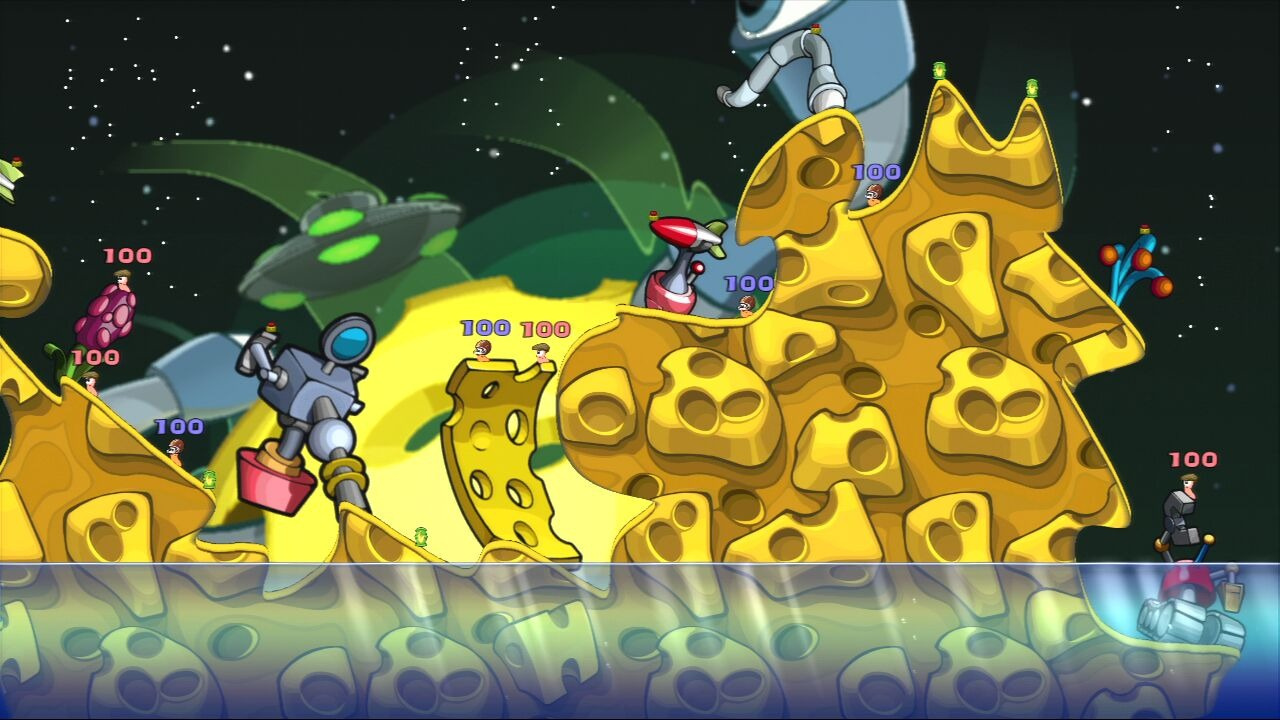 Worms 2: Armageddon (PS3) 
This iconic artillery strategy game became known as the "friend destroyer." That was for two reasons: Firstly, in the game you got to take on your friends and attempt to destroy their team of worms before they could destroy yours. Secondly, tempers became so fraught during game play that friendships would literally be destroyed in real-life.
Developed by Team 17, this game was a definitive title for a generation of gamers who loved to play a social gaming title before social games went mobile. Friends would group around a single screen and play against each other. The fact players could name their own worms and their team of worms added a personal touch which added more emotion to the whole affair. Single player mode consisted of 30 missions, multi-player mode introduced six game styles, and the shop allowed players to purchase items to improve their gameplay experience.
Disgaea: Hour of Darkness (PS2)
We end this list with a PlayStation classic: PS2 title Disgaea: Hour of Darkness. Developed by Nippon Ichi Software, this game exudes everything that is outstanding about the second generation PlayStation console. Originally released in 2003, it was re-released on the PS Network in 2013.
Players must take control of a squad of humanoid units and monsters in this tactical role-playing game. They must do battle with their enemies and try to prevail as the surviving army. Characters in the game such as Laharl, Etna, Flonne, Captain Gordon, and Jennifer have gone down in PlayStation cult lore. The franchise is still as popular as ever with Disgaea 5: Alliance of Vengeance, released in 2015 on the PS4 with reviews as glowing as the original release.