At PAX South 2020, OnlySP had the opportunity to speak with Carsten Fichtelmann, founder and CEO of Daedalic Entertainment, a studio based out of Hamburg, Germany. Fichtelmann discussed what Daedalic looks for in a game it is publishing, how the industry has changed since the studio's inception in 2007, and his opinion on the next generation of consoles.
---
OnlySP: I want to learn a bit more about you and Daedalic Entertainment first. Can you tell me what you think makes Daedalic unique compared to other video game developers and publishers?
Fichtelmann: I personally founded the company 14 years ago, and when we first started, our main goal was to tell stories. Over the years, we developed many classic adventures games. Now we're shifting to over genres. Quality was one of the main issues. We wanted to make games that were good but also were able to age quite well. In the first years, we did many 2D games, which are still out, like the Deponia series and the Whispered World series. These games are still played today. With our new games we are shifting to other genres but the story is still an important element.
OnlySP: Daedalic Entertainment has won several awards for things like studio of the year in Germany. But I want to ask you, the studio was founded in 2007, and now it's 2020. What are some of the biggest lessons you've learned from working in the video games business?
Fichtelmann: Every year is difficult, and we're still more or less an indie. We self develop our games and self publish games, as well as also do third party publishing. I think in these past 14 years, we saw so many changes, but now it's a good time for indie developers and publishers because you have so many platforms and business models. It's an overcrowded market, and I feel like 50 games come out on Steam every day. You have new subscription models, and you need to go in with open eyes through the industry and also find your chances with your games. Maybe also genre-wise, you need to decide if you want to go hardcore, midcore, or casual, because there's an audience for different games. 
For example, a platformer. At the end of every year, you might have three notable platformers, which did really well, but at the same time, hundreds of other platformers came out. Not every genre is the best to work on. For us, we did many point and click adventure games in the past. Now we see that there is still a big audience, which is interesting for this kind of game. But this audience is now more interested in watching it on Twitch or YouTube, but we can't monetize this audience. This is why we shifted a bit. 
Our Lord of the Rings: Gollum game is an action-adventure game. It has storytelling like we've done in the past doesn't have that classical point and click adventure gameplay.
OnlySP: Daedalic develops many point and click adventure games, such as Edna & Harvey, as well as the Deponia series. However, Daedalic also publishes other genres, especially in the RTS and strategy genres like Shadow Tactics, and now Iron Danger and Partisans 1941. Can you tell me what kind of things that stand out in a game for Daedalic to be interested in publishing?
Fichtelmann: When we do a greenlight, for example, we saw about 300 titles by the end of 2018. I think it's important to find the developer who tried to do something unique and then now at the moment we are trying to go into games as a service model title or early access. It's not easy, but it's good if you think the core of the game is good. Then you can develop this game with a community. We've released Barotrauma, Iratus, and Unrailed and these games are growing massively. When you see these three games, they are quite different. 
This year we're starting with Partisans 1941, which is similar to Shadow Tactics. The lead designer of Iron Danger said that his vision is to do something that doesn't exist currently. He's coming out with a game which is like an action RPG but it has time manipulation elements. You can stop time and go back and redo your actions. This is something that is new. With games like or Unrailed and Barotrauma, the mix we are offering is unique. We will continue one of our classic games series, that we may announce in a few weeks! One of our big brands will see a follow up this year.
OnlySP: I want to ask you about Partisans 1941 for a bit. So the background of the game, the player takes control of Soviet Partisans who are resisting German occupation during World War II. I was just curious, did the historical aspect of the game, about German occupation, was that something that stood out to Daedalic when deciding to publish, since you're a studio based in Germany?
Fichtelmann: I think in the video games industry, we often see World War 2 as one of the most interesting settings for a core game. For us as a German studio, it's important. For our generation, it's been 70 years, which means it is good for us to still say, "guys, what happened back then was not good, but this work we're doing here is entertainment. Now you're playing the Russians, and I don't see any problem for us as Germans to be defeated again" [laughs].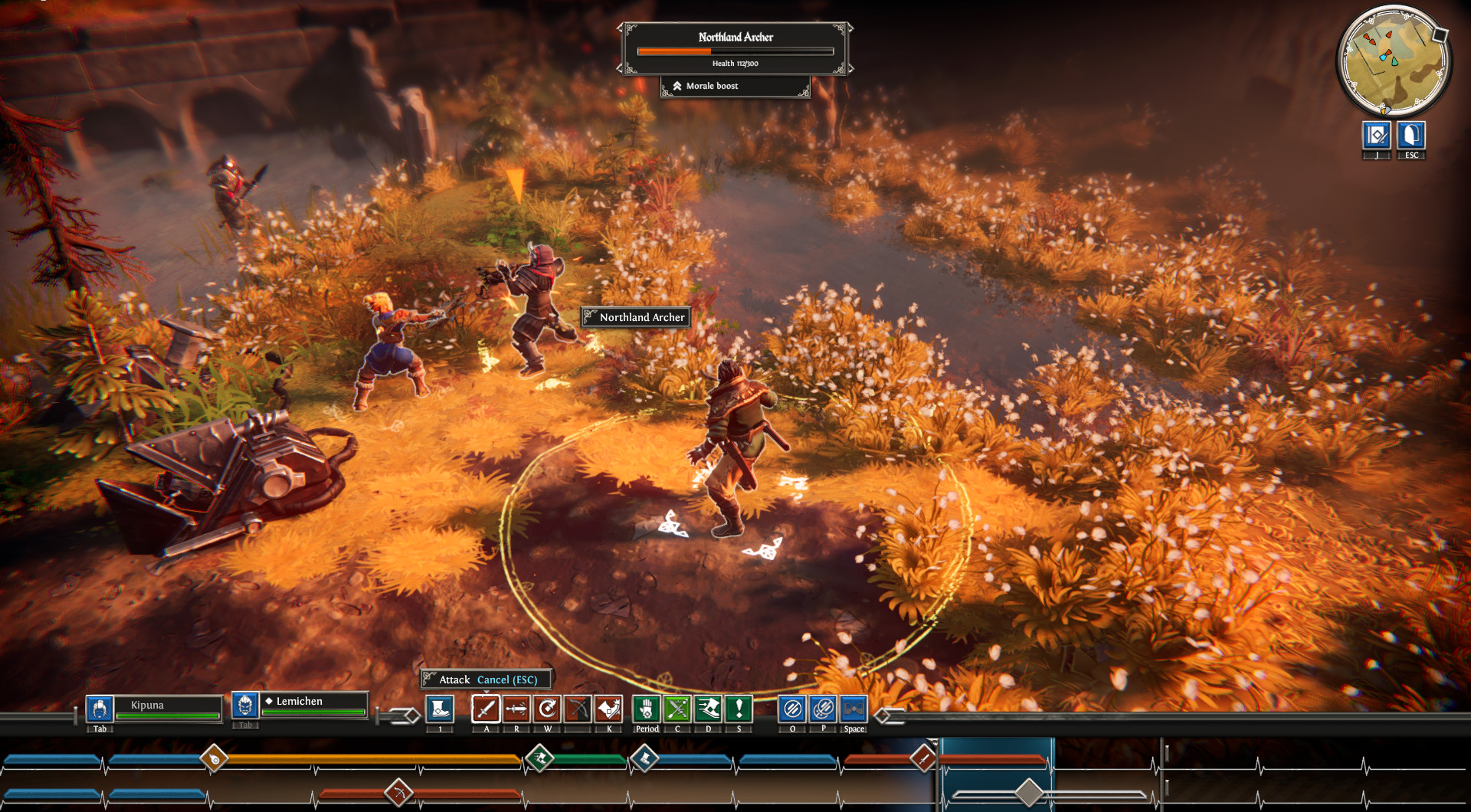 OnlySP: We've had many games set during WW2. Call of Duty WW2, Wolfenstein, Battlefield, and Commandos. WW2 is I guess, familiar territory, for gamers. What do you think makes Partisans 1941 stand out when it comes to having a WW2 setting?
Fichtelmann: I think normally, you play the US forces or maybe the Alliance forces. This time, you play as Russian partisans. I think the spin of the game is a bit different. You'll play again against the Nazis, but then again aligning with partisans from France. The tone of the game is different, and the developer comes from Moscow, Russa, and they did as much historical research as they could to come out with an authentic game. It is also what is normal for our games. For Ken Follet's Pillars of the Earth, we did about 2 years of research, and now we have Lord of the Rings. If we do a game based on true events, we try to do historical research accurately.
OnlySP: Now I want to talk about Iron Danger. So the time manipulation technique in the game is really interesting here. Being able to see the outcome of the moves you make adds another dimension into the gameplay. Just curious, what were some of the things that stood out to Daedalic when it came to deciding to publish this?
Fichtelmann: We met the developers at GDC about a year ago in France in a basement of the hotel, and they showed the gameplay and described the vision of the game's main design. This definitely is unique and you can compare the graphics of the game to something like Divinity. We had a good feeling with the game and when we got the first vertical slice, we talked to the greenlight team, and said, 'this is a good game for Daedalic, we should fly to Finland and talk with the guys.' And then they came over and we came to a solution that it would make sense for us to work together.
OnlySP: So last question, I know that Daedalic is working hard on The Lord of the Rings: Gollum, but can you tell me about what's next for the studio and what your thoughts are on the next generation of consoles?
Fichtelmann: Lord of the Rings: Gollum is definitely next gen, so PlayStation 5 and Xbox Series X. It's still far away, so the end of 2021. For us as a studio, this is the main thing we're doing at the moment. There's going to be a second game, as I said before, a follow up to one of our classic adventure game series. After that, I'm not sure. It depends on whatever happens. One thing for sure, we're not doing only one Lord of the Rings game, we're doing more. Maybe we need to build up a second team within Daedalic, which would already work on the second game before we finish the first game. That's our main goal at the moment as a company. 
Publishing wise, last year was successful because in a difficult market we had hits in Barotrauma, Iratus, and Unrailed. This year we have Iron Danger and Partisans 1941, we are still negotiating some titles for the second half of this year. I'm also quite optimistic that we are finding good content. Sometimes we have only PC games and sometimes games that are multiplatform. The next generation of consoles will be successful again and we are well prepared for whatever happens with the big players.
---