The Borderlands series is celebrating its 10-year anniversary with a five-week celebration.
In Borderlands 3, Gearbox is hosting a month-long event where players can earn loot and bonuses just by playing the game. Each week over the next five weeks will feature a different theme, and players will be encouraged to participate in different in-game activities. The first week, starting now is the Boss Week, where some bosses will have an increased chance to drop a unique Legendary grade item. Boss Week will continue until Oct. 8, 2019 at 8:59 a.m. PDT.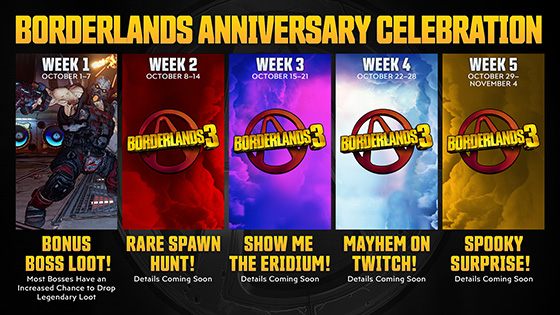 The upcoming weeks of the anniversary celebration include Rare Spawn Hunt, Show Me the Eridium, Mayhem on Twitch, and Spooky Surprise. Details will be coming soon about each theme.
Borderlands 3 sales broke multiple 2K records and approximately 70 percent of sales were digital. Developer Gearbox Software is also reportedly expanding its team to "support the game with new platforms," while simultaneously focusing on delivering patches, free add-ons, and various pieces of campaign DLC.
For all the latest news from Borderlands 3 and the world of single-player gaming, be sure to follow OnlySP on Facebook, Twitter, and YouTube. Also, be sure to join the discussion in the community Discord server.